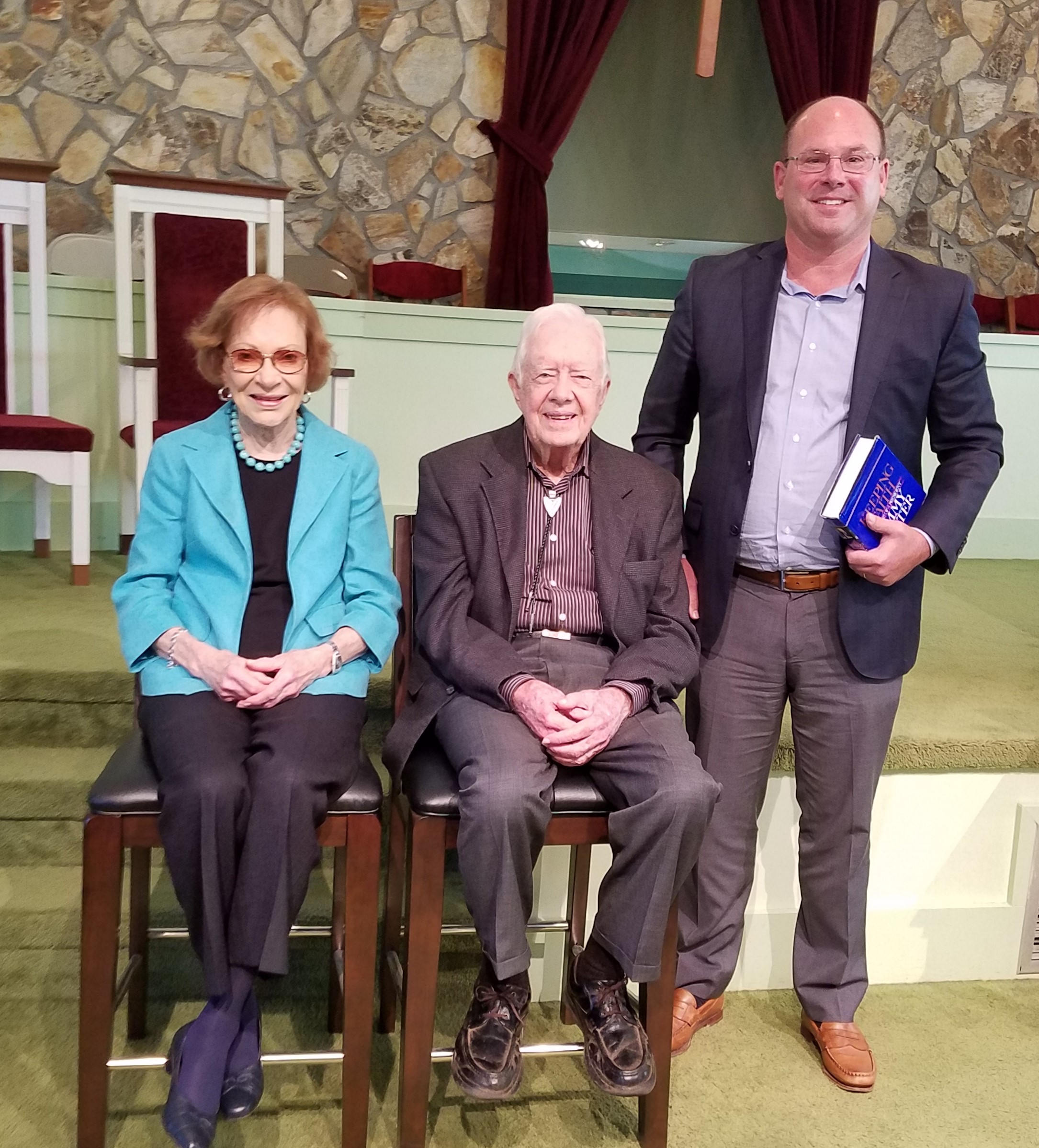 31. May 2019
Potlucks and a President: My Time with The Carter Center
by Bryan McCleary, Former MyNextSeason Client
Occasionally MyNextSeason has the opportunity to match a client with the needs of an innovative non-profit organization as an Executive-on-Loan. This match presents a unique opportunity to pair a client's domain skills and career experiences with an organizational project/need that would be meaningful and impactful for them while furthering the important work of the organization. This ethos of giving back is deeply engrained in MyNextSeason's culture, and we enjoy wonderfully fruitful relationships with several leading charitable organizations. Below is the account of a particularly rewarding Executive-on-Loan experience, as told by former MyNextSeason client Bryan McCleary. When someone mentions former President Jimmy Carter to you, does the picture that pops into your mind include a hard hat? If so, it's because Jimmy Carter and his wife, Rosalynn, have dedicated their post–White House years to building; not just building homes for the needy, but also building democracy, freedom, and health in developing nations. President Carter famously pivoted after his political career, and not long ago I too found myself seeking to pivot. After twenty years doing PR, global communications, and cause marketing with P&G, I was interested in applying my experience to the non-profit world. As part of my career transition, I partnered with MyNextSeason to discern how I might be able to translate my corporate skill set to the non-profit sector.
The MyNextSeason team and I discussed the work I had done in my roles at P&G, which included some major cause marketing campaigns. For example, the "One Pack = One Vaccine" program helped UNICEF eliminate neonatal tetanus in a dozen countries. Another, "Crest Healthy Smiles," was a highly successful ten-year program designed to bolster dental health for low-income youth. I count those contributions as some of my proudest achievements.
One of the unique things about MyNextSeason is the web of relationships they have with major non-profit organizations. When they proposed to me the idea of working with The Carter Center, a world-leading NGO focused on human rights, democracy-building, and global health, it felt like a natural fit. And it struck me as exactly the opportunity I had been looking for to help me determine my next steps, all while giving back to an amazing organization.
The Carter Center
First, a little background on The Carter Center: Based in Atlanta, the Center was founded in 1982 by former U.S. President Jimmy Carter and former First Lady Rosalynn Carter. Its mission is "guided by a fundamental commitment to human rights and the alleviation of human suffering. It seeks to prevent and resolve conflicts, enhance freedom and democracy, and improve health." Their work has helped to improve the quality of life for people in more than 80 countries.
I engaged with The Carter Center for a month-long fellowship in the fall of 2017. I was welcomed warmly by Phil Wise, Vice President of Operations and Development. Phil first met President Carter in Plains, Georgia, while in President Carter's Sunday school class. Phil went on to spend his career—including as White House Appointments Secretary—serving the President. Phil immediately impressed me with his magnetic personality, intelligence, and management style—which can best be described as "management by walking around." He doesn't even have a chair in his office for people to sit because he goes to them. He's incredibly busy, but he makes the time to get to know every single person at the Center. He knows their kids, he knows their stories, and he knows what they're working on. I could tell right away why the Carters have relied on him for so long. I think of him as the keeper of the flame of their legacy.
After so many years in the corporate world, I wasn't sure what to expect from non-profit leadership, but I was incredibly impressed by the capability and care demonstrated in The Carter Center's leaders. Having direct access to them was a gift to me. In addition to Phil, I worked with the CEO, Mary Ann Peters, as well as the director of communications, the head of corporate fundraising, and the heads of various departments, including democracy, health, and mental health. I got exposure to lots of different parts of the Center—not just the communications end, which is my specialty, but also fundraising and strategy.
During my engagement I contributed to several projects. One was a future vision piece projecting what the Center would look like 5 years down the road. Another focused on messaging, essentially taking an 8-page document and boiling it down to half a page of key positioning. I also tried to make some connections for the team on the corporate partnership front. In all these efforts, it felt wonderful to bring my expertise and outsider perspective to the team to bolster the good work they're doing.
One of the highlights was when I brought in a trusted colleague, Paula Berezin, of Social Capital, a leading consultancy on causes and fundraising, to the Center where we teamed up to put on a hard-hitting workshop called: "How does corporate America really think?" That name was an attention grabber and attracted a large audience. Paula did a great job of laying out insights into how companies are partnering with non-profits. She presented trends and inside tips for forging such partnerships, and I provided examples of various public-private partnerships and importantly, how corporate America measures the success of this work. The experience drove home for me the value of applying corporate best practices to non-profit challenges, which was essentially what I was seeking to do during my time there.
Meeting the Carters
A highlight of my experience was having the opportunity to attend President Carter's Sunday school class in Plains. The room was still—and electric with anticipation waiting for the President and Mrs. Carter to enter the room. Then it happened. Chills streamed through my body as President and Rosalynn Carter came into the sanctuary. Mrs. Carter took a seat in the third row right in front of me, seated in the midst of her Plains neighbors. I had to hold back tears at this touching scene.
President Carter held the audience in the palm of his hand for nearly an hour with no notes. He mixed inspirational messages with anecdotes from his life and occasionally alluded to the turmoil in Washington. After the lesson, we sang hymns accompanied by a simple piano and a small choir. Following the service, I had my picture taken with the Carters—a huge thrill! I then made the two-hour trip back to Atlanta and on the way back saw cotton fields for the first time. It was a poignant moment, and a sad feeling swept over me as I thought about the slaves and sharecroppers who once toiled in those very fields.
My last day at The Carter Center was incredible and, true to Southern hospitality, included a potluck lunch. I sat down at a table and noticed an empty chair that someone had reserved. I was eating my meal when none other than Mrs. Carter came over and sat down in that saved seat. She was so kind and down to earth, and we had a lovely conversation. We talked about the Carters' home church because they had just hired a new twenty-two-year-old pastor, still working his way through seminary, and Mrs. Carter had served on the search committee. The Carters don't advertise it, but they are very active in their church. Others told me that whenever there is a wedding shower at the church, the Carters always attend and bring a dish, like any other member of the congregation. President Carter carved the cross in front of the church sanctuary and is even said to mow the church lawn. They still live in a small, unassuming ranch home outside Plains where President Carter writes, Mrs. Carter cooks, and the couple receives visitors from all over the world. I am awed by their humility and servant hearts.
Since my month at the Center, I have stayed in touch with my new friends. I recently returned there, meeting with CEO Mary Ann Peters, having lunch with Phil Wise at one of his old political haunts around the corner, and brainstorming with Phil and Deanna Congileo, the Center's longtime communications director. The pair asked me to put some thoughts together on how they could blow out a human rights initiative. I eagerly returned home and sent them a recommendation the next morning. I have since connected with Mary Ann several times and look forward to continuing to stay in touch with these very special people.
Richly Rewarding
Going into my time as an Executive-on-Loan, I wanted to know what it felt like to be a part of a non-profit organization. Not only did I come away with a really good sense of that, but I also got a good sense of The Carter Center's organizational culture, the important work they are doing, and the selfless people keeping the wheels moving. My fellowship provided me with so many rich experiences, memories made, and relationships forged. I look back at it as sort of a magical time, and one I wish could have lasted longer. Before I left, I purchased a print of The Carter Center building and asked everyone there to sign it, including the Carters. It's a treasure—just like them—and it hangs in my family room as a reminder of this pivotal time in my life and career. I would encourage anyone with a corporate background who is curious about the non-profit world to explore the possibilities there. There are also many other organizations doing worthy work that could benefit from the expertise and skills built up during a corporate career. My background is communications, but non-profits need people with backgrounds in finance, operations, fundraising, strategy, management, and more.
Whether serving on a non-profit board, transitioning to full-time employment with a non-profit, or just putting on some work gloves and diving in as a volunteer, you have something to offer. I think former President Jimmy Carter is the perfect example: he uses his experience and platform to better the lives of others.
But you don't have to be a former president to follow his lead.
Back to Blogs