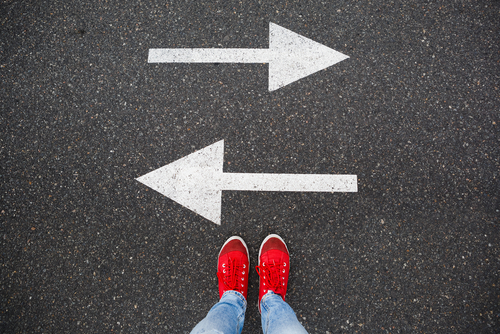 26. March 2019
Change of Plan
by Alexandra Hanscom, MyNextSeason Intern & Charlotte Fellow
As an undergraduate, declaring a major induced a bit of anxiety, given the pressure college students feel to pick a path before they really know what they want to do. I changed majors twice, and learned many valuable lessons along the way—one of which is that diverting from your original Plan (capital "P") in pursuit of something different can be daunting, yet incredibly freeing. I hope through sharing my experience, I will be able to help others make the best choices for themselves.
I began college as a nursing major at James Madison University, then transferred to Christopher Newport University and chose to major in Fine Arts with a concentration in Studio Art. I switched to fine arts because art is something that has always been a huge part of my life and defines who I am. As a nursing major, I was unable to pursue this passion as I would have liked. I also wasn't enjoying the science and math classes as I felt I should. When I transferred to CNU, I saw the opportunity to do something completely different, and I'm glad I chose to pursue art, as it brings me immense joy.
I thought teaching art would be a good way to use my degree practically, so I applied and was accepted into my school's master's program for teaching. However, as my senior year approached, I found myself dreaming of all the different possibilities of what life could look like after graduation—particularly the possibilities that didn't involve grad school. I kept these thoughts to myself for a while, then I started talking about it with others as a way to evaluate my options.
The most helpful endeavor for me in this decision-making process was receiving counsel and wisdom from a few trusted individuals who have more life experience than I do. I found it valuable to consult others who have a wider perspective. Maybe they could offer nuggets of wisdom as I contemplated a big decision in my life. My faith is paramount to my identity, so it was really important to me that I sought the counsel of other like-minded believers.
One of the challenging aspects of this process was what to do with the varying responses. Some people encouraged me to keep going and get my master's degree, yet others advised me to deviate from that plan if it was what I wanted to do. It became clear I would need to weigh the advice and ultimately be the one to make—and own—the decision.
Taking the advice of a mentor, I made use of the career center at Christopher Newport University. The career advisor encouraged me to accept that it was okay to not have it all figured out, recommending that I take a career aptitude test which provided me with many different ideas for the future. I would suggest making use of the resources offered to you, whether it's the career center at your school, a career aptitude test, or an online gifts inventory to help figure out where your strengths and interests lie.
Reading books and other materials helped me as well. One of my mentors directed me to a resource that outlined the principals of discerning the will of God. Tim Keller's book, God's Wisdom for Navigating Life, was so helpful to me, and I highly recommend it! After graduation, I began my internship with MyNextSeason, and I was given a copy of the company's Early Career Advantage™ Guidebook, which has been another good resource for me. In it, MyNextSeason co-founder Dr. Leslie Braksick writes that many of us are offered advice that includes "you should" statements, however, there is no place for "should" when it comes to defining how to plan your life and career. I didn't need to accept someone else's view or advice about what I "should" or "should not" do. I am the best expert on me, and you are the expert on you. These were powerful words for me to receive. In my own situation, I learned that there is no perfect choice and that I couldn't please everyone—the choice was mine, and I didn't want to allow myself to be constrained by someone else's "should" regarding what my post-grad life and career will look like. You don't have to either!
Ultimately, I decided to put grad school on hold and spend a year working and studying through a unique fellowship opportunity in Charlotte. Opening myself up to others' advice and making use of the resources available helped me make a choice I am happy with. I learned that, while it's so important to own these big, career-related decisions, it's equally important to know you're not alone in them.
As a result, this year has been characterized by learning and growth. The Fellows program has challenged me to think beyond my understanding of the world and how we use our gifts to benefit others. I'm incredibly thankful for this experience as it's given me the opportunity to learn more about myself without the pressure of grad school. I've become more aware of how I'm uniquely talented and that this life isn't about me—I serve a God who desires my life to be poured out for Him and others. I'm no longer restricted by others' expectations and I am open to possibilities I might not have considered a year ago.
The wisdom and counsel I have received from family, friends, and new contacts has been incredibly valuable to me. I am now listening to advice from others and aligning this input with what I know about myself and my needs. I do this to be true to myself as I choose exciting next steps to move forward on my path. This has been a freeing process for me, and I hope you will experience the same.
Back to Blogs